PBG's new Collection series has him playing through Wind Waker, exploring all the islands and marking them on his map. PBG does not explore any dungeons throughout this series.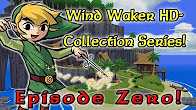 List of Episodes
Edit
To do: PBG suggested during the series to count how many times he accidentally jumped out of his boat. This is a perfect place to add that.
Ad blocker interference detected!
Wikia is a free-to-use site that makes money from advertising. We have a modified experience for viewers using ad blockers

Wikia is not accessible if you've made further modifications. Remove the custom ad blocker rule(s) and the page will load as expected.