Mario 64 HACKED (Chaos Edition) is a series where PBG played through Super Mario 64 Cha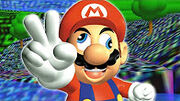 os Edition, a ROM hack where the game has crazy obstacles for the player. Mario had to battle weird textures, being turned into a sign, having everything flung at him, losing health for no reason, dying from opening a door, being flung off the edge, and constant crashes! PBG never finished Chaos Edition, but his original plan was to only beat Bowser once, and ended up beating Bowser several times.
PBG has promised to return to this series at a later date, but has yet to do so.
List of Episodes
Edit
PBG found a total of 33 stars during his playthorough of the game.
Ad blocker interference detected!
Wikia is a free-to-use site that makes money from advertising. We have a modified experience for viewers using ad blockers

Wikia is not accessible if you've made further modifications. Remove the custom ad blocker rule(s) and the page will load as expected.