Ian "Brutalmoose" Macleod is a YouTuber, and a member of Hidden Block. Ian regularly reviews children's and educational games.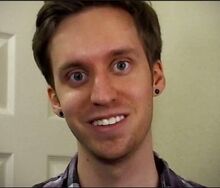 Appearances
Edit
PBG attempts to bribe both Ian and Jeff to play Link The Faces of Evil for him. Brutalmoose does not want to.
PBG is called by Ian in Putt Putt Does Some More Things AGAIN, wanting to play Freddy Fish, which they collaborate on on Brutalmoose's channel
Brutalmoose decides it is a good idea to die in Darkest Dungeon in the Top 10 Worst Video Game Worlds To Live In.
PBG gets a copy of Freddy Fish 2 during his 4th Goodwill Games video. He doesn't want to hang out with Brutalmoose, but it is better than the alternative.
Appearances on PBGGameplay
Edit
PBG, Jeff and Brutalmoose play Mount & Blade badly.
Brutalmoose is also a member of the Mount & Blade Hardcore shorts episodes.
He also plays PayDay 2 alongside PBG, Jared and Jeff.
Appearances on Hardcore
Edit
Other mentions
Edit
Brutalmoose wants to watch PBG play Stranded Deep.
PBG puts Brutalmoose into his Tomodachi Life game, who plays warplanes with Unicornism.
Hardcore Stats
Edit
| Season | Episode of Death | Cause of Death | Remaining Players | Other notes |
| --- | --- | --- | --- | --- |
| MineZ Season 1 | 16 | Stomped by the giant | Barry, PBG | Jeff died moments before Brutalmoose, and Barry died moments later to the giant zombie. |
| MineZ Season 2 | 12 | Gets swarmed by zombies. | Jared | |