PBG and Jeff try out all of the mini games in Game and Wario, and they decide to rank them. Unfortunately, the pair agreed that they didn't really like the game overall, as it was too different to the WarioWare games, and most of the games that were available weren't fun to play.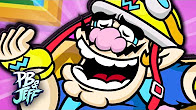 List of episodes
Edit
Ad blocker interference detected!
Wikia is a free-to-use site that makes money from advertising. We have a modified experience for viewers using ad blockers

Wikia is not accessible if you've made further modifications. Remove the custom ad blocker rule(s) and the page will load as expected.